14 Day Highlights of Rajasthan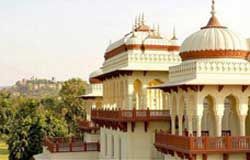 In this tiny slice of India, a wealth of history, culture and color surrounds you. Immerse yourself in the iconic monuments of Delhi and Agra, and the imposing grandeur of Rajasthan's hilltop forts. Spend an unforgettable night in a deluxe tent in the vast Thar Desert and explore a lively Jodhpur street bazaar. Spot wildlife in rugged Ranthambore National Park and savor the region's sumptuous cuisine.
12 nights hotel accommodation
1
...

Since 1985, Qantas Vacations has been renowned as the expert tour operator specializing in Australian vacations. Our agency consists of seasoned travelers and destination specialists who take pride in crafting amazing vacations in Australia, New Zealand and South Pacific Islands.
Many of our team have also either lived or traveled extensively to these parts of the world and have local knowledge that will help make planning your trip hassle free. There is nothing like speaking to a rea
...